| | |
| --- | --- |
| | The Display Case #11: Johnny Bower Is A "Portrait" Of Health At 88!!! |
Happy Birthday Johnny Bower! The Leafs legend turned 88 today folks, and in recognition of this special day is a Bower-centric "Display Case" for you readers…
This edition comes via an individual named Peter who is a representative for Newfoundland-based artist Bill Rose. Mr. Rose completed an amazing portrait of "The China Wall" that impressed the subject so much he had to see it in person, thus beginning the transportation of the portrait to a Sport Authentix-hosted signing session in Vaughn, Ontario, this past October which featured Mr. Bower alongside Curtis Joseph and Mike Palmateer:
I represent a Canadian artist who did am magnificent portrait of Johnny Bower. We contacted Mr Bower and he wanted to see it so we brought it from Newfoundland to Toronto. What a great gentleman. He walked up to it immediately, looked downward at the pads, and said "The puck didn't get past me did it?"

A true gentleman, he stayed and talked and shared stories. We have some great photos of him signing the back of the painting along with Cujo and Palmateer

He said he would like to see it in the Hall of Fame. I'd love to find a buyer that can make that happen.
Here's a story written by Joe Hall of the Star about our journey.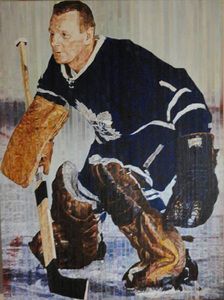 (Photo Credit TorStar)
A great portrait of a great athlete and human being! Classiness personified. Happy Birthday Mr. Bower, with wishes for many more to come…
______________________________________________________________________
Do you have a piece of treasured memorabilia that has a great story behind it? Let me know and you can be featured in an article. Doesn't matter how big or small the piece is, how valuable it may be, or whether it's a common item or more oddball. If you think it has a story, contact me via the information below and we'll chat. In the meantime, check out some previous "Display Case" articles via the links below to see what others have submitted in the past...
______________________________________________________________________
Shawn Gates
shawn.g
[email protected]
Facebook: Shawn Gates
Facebook Group: Hockeybuzz Collectibles
______________________________________________________________________
Previous "Display Case" Articles
#1: The "Frankenstick!"
#2: Your desk has the right to remain collectable!
#3: Have Pads, Will Travel
#4: Pick a Pekka (Rinne) Autographed Mask
#5: Ted Lindsay Gets Kronwalled?
#6: The Only Thing We Have To Fehr Is Fehr Himself
#7: "Hungary" For Team Canada Swag
#8: The Soldiers Kid and "The Kid"
#9: Fan Appreciation & Player Humility Via The '72 Series
#10: Bobby Orr and....Birth Control?!?!?!
Previous "Who Am I?" Articles
#1
,
#2
,
#3
,
#4
,
#5
,
#6
,
#7
,
#8
,
#9
,
#10
,
#11
,
#12
,
#13
,
#14
,
#15
,
#16
,
#17
,
#18
,
#19
,
#20
,
#21
,
#22
,
#23
,
#24
,
#25
,
#26
,
#27
,
#28
Previous "Points To Ponder" Articles
NHLs Latest Concession Does Not Pass The Stink Test
Cancelled Winter Classic Is About NHL Spite, Not Pragmatism
Fehr's Take On Offer Not Reflecting Optimism Of Fans?
Hybrid Icing: An AHL Experiment With An NHL Future?
Hockey Writers: Bottom Of The Barrel?!?!?
161 Players Overrate The Need To Offer Their Opinion
East vs West: Which Conference is Best?
Previous "Would You Rather…?
#1
,
#2
Previous "According to Twitter" Articles
NHL – NHLPA "Negotiations"
Olympic Gold Medal Game
Olympic Hockey
Kovalchuk Trade
Previous "WHAT IF…?" Articles
#1 What If The NHL Contracted To 24 Teams?
#2 What If Quebec Traded Lindros To The Rangers Instead Of The Flyers?
#3 What If Calgary Drafted Martin Brodeur Instead Of Trevor Kidd?
#3a What If Calgary Drafted Martin Brodeur Instead Of Trevor Kidd?: A RESPONSE
#4 What If The WHA Never Existed?
#5 What If The Position Of Rover Had Not Been Eliminated?
#6 What If Pittsburgh Had Not Been Awarded A Team In 1967?
#7 What If Steve Smith Had Not Scored In His Own Net In Game 7?
#8 What If The NHL Had a Cross-Conference Playoff Structure?
#9 What If The NHL Asked For Fan Ideas For Improving The Game??
#10 What If Henderson Had Missed The Net In Game 8?
#11 What If You Could Sneak Into A Stanley Cup Celebration?
#12 What If The NHL Returned To Quebec City?
#13 What if Toronto and Edmonton Had Traded Teams in 1981?
#14 What if You Could Create Your Own Hockey Dream Team?
#15 What if An Active Player in the NHL "Came Out" as Gay?
#16 You Could Assemble Your Own Fantasy Pick-up Hockey Team?
#17 Hockey Had A Champions League Tournament?
#18 Team "X" Did NOT Make Trade "Y" At The Deadline?
#19 Gretzky Had Been Called For he High Stick?
#20 Star Players Hadn't Had Their Careers Cut Short?
#21 Mark Cuban Owned An NHL Team?
#22 Should Divisional Play Be Overhauled?
#23 You Won The Lottery Using Jersey Numbers?
#24 You Could Change Any Teams Name?
#25 You Could Own Any Odd Piece Of Hockey Memorabilia?
Previous "Very Random Thoughts" Articles
August 9, 2012
August 1, 2012
July 24, 2012
Previous "Hockey Videos"
2012: Week 1
2012: Week 2
2012: Week 3
2012: Week 4
2012: Week 5
2012: Week 6
2012: Week 7
Pain for Pleasure
National Anthems
Dion Phaneuf
Hockey Fans
Hockey Christmas
Nature Versus Sports
Goalie Fights!
Upcoming Signings
Click Here
Previous "Who Knew?" Articles
#1: Gordie Howe
#2: The Zamboni
#3: Maurice "The Rocket" Richard
#4: Ron Hextall
#5: Stanley Cup Abuse, Neglect and Versatility
#6: The Puck
#7: Don Cherry
#8: Cam Neely
#9: The Early Years of Les Canadiens
#10: Hockey Superstitions!
#11: Olympic Hockey Pt1
#12: Jarome Iginla
#13: Mark Messier
#14: Johnny Bower
Previous Product Previews & Reviews
2010-11 Donruss Hockey
2010-11 Panini Score Hockey
2010-11 Panini Certified Hockey
2010-11 ITG Ultimate Memorabilia, 10th Edition
2010-11 ITG Heroes & Prospects
2010-11 Panini Pinnacle Hockey
2011 UD National Hockey Card Day
2011 UD All Star Weekend Redemptions
2010-11 ITG Between The Pipes
Ultimate Set Build
INDEX
Previous "Devil's In The Details" Articles
#1: Beware the "Factory Sealed Box"!
#2: The Price Guide"
#3: What IS A Rookie Card?
#4: Beware the Money Order!
#5: The Counterfeit Gretzky RC
Previous Box Breaks
2010-11 Score Hockey
Previous "Devil's Advocate" Articles
Gary Bettman and the Phoenix Coyotes
Previous "Town Without A Team" Articles
Booger Hollow, Arkansas
Hell, Michigan
Previous "Hockey Psychology" Articles
State Dependent Learning
Arousal and Performance
Depression

Join the Discussion: » 5 Comments » Post New Comment