How appropriate it is that the week of Thanksgiving, we would see Chris Drideger (who has never started an NHL game), gobble up up pucks like they were turkey leaftovers, and lead the Panthers to a convincing 3-0 win over the Nashville Predators.
Awesome stuff.
Im not often right on a lot of things (my wife can tell you that), but every once in a while I get something right that's related to hockey. Last night was one of those things.
As I wrote yesterday, I have no doubt in my mind the decision to start Driedger was done in part to send a message to Bob and also kickstart this team and break the three-game skid they were on.
The latter was certainly received. I thought the boys played very well in front of #60, which is what the coaching staff was banking on. Many times a team steps up to help a young/rookie goalie out. The Cats did just that. It also helped that they put pucks in the net after pouring it on the past couple games and not finding the twine.
The question now is: Did Bob get the message?
If I'm a veteran goalie who was signed to big money to be "the guy" and lead this budding team (that could be poised to do some really good things) to hockey's promised land...I'm definitely taking note of last night's game.
Let's face it, Bob isn't getting the job done right now and was benched for a guy that makes a fraction of what he makes ($850K/year to Bob's $10M/year) and who has never started an NHL game. What's more, that young guy came in and stole the show with convincing play, had the team behind him and earned a shutout.
I don't think there's a goalie controversy or anything like that (yet). Bob will be the guy for the Cats in the blue paint. I mean...he has to be with that salary and resume (though shaky at times). There's too much invested in him right now. Last night should be a nice wake up call for him. Hey, we all need those sometimes.
Driedger's Play
I was really impressed with Driedger's overall play, particularly in his ability to soak up shots and not give a lot of rebounds/second chances.
The guys no doubt helped him out by playing well in front, but there were a number of good opportunities from Nashville's side (yikes on that botched pass from Matheson to Pysyk in the first period in front of the Cats' net...)
Perhaps most importantly was his ability to make the saves he needed to. It's one thing to make the highlight reel stop, but people forget that making the routine saves is just as important - if not more important. When your goalie is looking confident and stopping the shots he should be, it gives the team a confidence boost too. Now you have guys playing a little looser because they know they have someone behind them that can stop what's coming his way. This is an area Bob has struggled in thus far. Credit to the Cats on doing a nice job of limiting the shots and high caliber opportunities, which in turn helped the young Driedger out.
I don't know what their plans are for Tuesday, but I'd like to see #60 back between the pipes sooner than later.
I need to check the facts, but I read this is the first time in franchise history that a FLA goalie recorded a shutout in his first NHL start.
By the Numbers
I found it interesting how close the two teams were last night from a stats point of view, but very nice to see the Cats finally get a convincing win in regulation.
How about old man Stralman? The veteran had himself a great game. He jumped into the play when it made sense and was rewarded for it with two goals. Nice work, "gramps."
__________________
Great start to the homestand...let's keep this energy going, boys!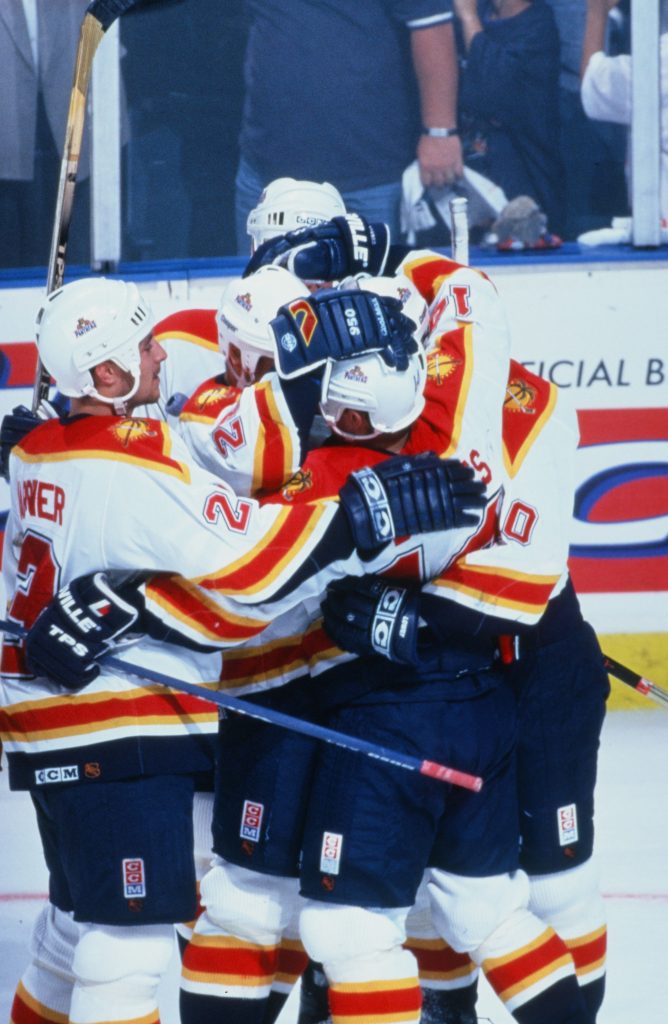 [Image from FloridaPanthersVault.com]
Go Panthers!