Thoughts to those affected by Hurricane Dorian.
______________________
Today the Florida Panthers announced something that I can safely say is a mega highlight of the offseason for me...but, why have me explain it, when the Panthers site sums it up so much better:
"The Florida Panthers announced today that the team has entered a partnership with Heritage Werks to archive and share the hockey club's history.

Through the partnership, Heritage Werks will collect, curate and digitize Panthers items to tell the stories of Panthers history. Fans are now able to view and explore a free, digital 'Panthers Archives Virtual Vault' including items such as game-worn equipment, giveaways, memorabilia, ticket stubs, paintings, photos, bobbleheads and more."
In a nutshell, the Cats have created an online Panthers museum that can be explored right here at
FLA Panthers Vault
.
The hockey history dork in me is in absolute joy swimming through all the goodies the budding Vault site has to offer!
From The Vault's
"About The Panthers Archives"
section:
"Since before the puck dropped for the first ever Florida Panthers game in 1993, people have been collecting items and papers and photographs that represent Panthers history. In 2018, the Panthers organization brought in a specialist partner to help formalize the Florida Panthers Archives, so that these memories could be shared with fans.

Today, the Archives is safely organized, preserved and digitized for use. You can see highlights from the collection during games, throughout BB&T Center, on social media and here in the Virtual Vault. You can even share Virtual Vault items on your own social media feeds.

The Florida Panthers Archives contains:

- Almost 1,000 unique objects including game-used gear
- Over 55,000 images and photos
- Many team publications and promotional items
- So much content that, lined up end to end, the Archives would be longer than three hockey rinks!"
I encourage you to take a look, relive some memories and get inspired.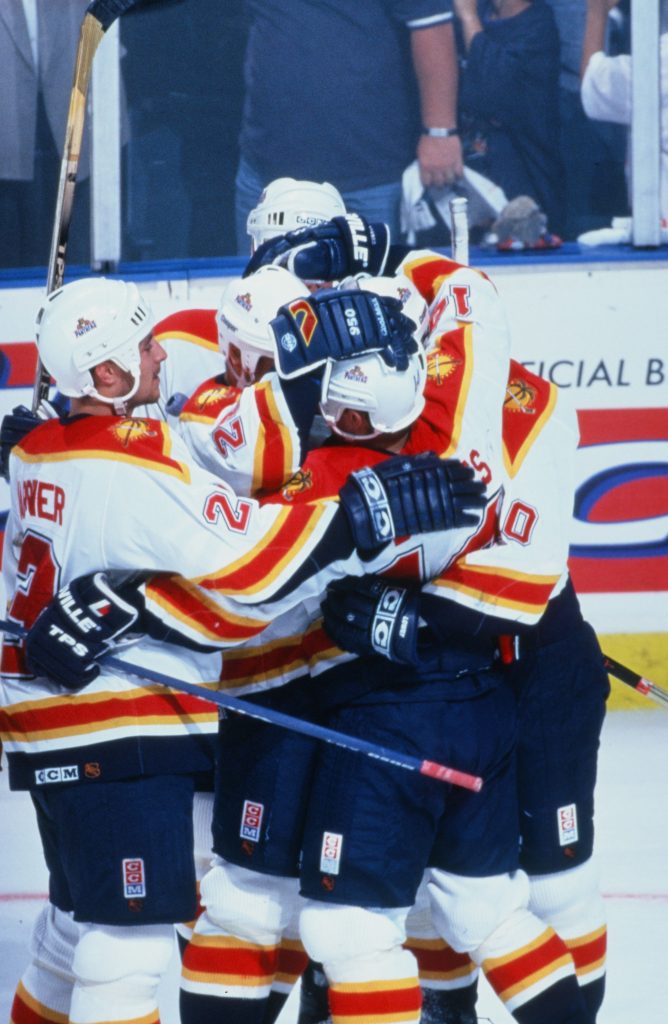 [Image from FLA Panthers Vault]
In Non-Vault Related News
Troy Brouwer has signed a professional tryout with the Panthers and will report to the team's training camp to fight for a roster spot. The 34-year old forward has the size and physicality (at times) I'd like to see in the lineup and could solid lower line depth.
In the 2018-19 season, Brouwer notched 21 points (12 goals, 9 assists) in 75 regular season games.
I was really hoping the Cats would bring Sheahan back, but it looks like that's probably not going to happen.
_________
We're getting closer to the season, folks...
Go Panthers!