You can follow me on twitter for updates and discussions: @ColinDJD
_______________________________________________________
To continue from where we left off in yesterday's blog, today will cover Part 2 of this "Original Six team's goalies and their masks" series. Today I will be going over the Toronto Maple Leafs.
As expressed, there are simply too many goalies to write about for each respective team, so there will be some criteria followed for a goalie to make the list. Each goalie included under the "Past Goalies" category must have played at least three seasons with the team, and must have also had an interesting or unique mask.
Enjoy!
Present Goalies
James Reimer – 34
3.bp.blogspot.com
Toronto's current starter will be looked upon to get the Leafs into the playoffs this upcoming season. Given that Toronto is the only remaining team to have not made the playoffs since the lockout, Reimer may have a lot of pressure to help his team find the playoffs, especially if GM Brian Burke is unable to land another experienced netminder.
Ben Scrivens – 30
4.bp.blogspot.com
Scrivens could potentially have his full first season in the NHL this year if he is given the duty to backup James Reimer. He has yet to play more than 12 games in an NHL season, although has shown a lot of promise while playing for Toronto's affiliate team, the Marlies. As mentioned, if Brian Burke is unable to find an experienced tender for the team, a tandem of Reimer and Scrivens is to be expected and will surely stir debate if they cannot handle the pressures.
Jussi Rynnas - 40
dielairbrush.ca
Next in line behind Scrivens in the Maple Leafs goaltender depth is Rynnas, who will likely spend most of the year with the Marlies. Rynnas still needs to prove he is capable of being a starter, and will be given the chance with the Marlies.
Past Goalies
Jonas Gustavsson – 50
flickr.com
Toronto's most recently moved goalie, Gustavsson had a rough time while playing in Toronto as he was not able to gain the confidence of his coaches or fans. Many feel he was not given a fair shake to prove himself with the Leafs, as he was expected to be the saving grace for a struggling young team but couldn't get the job done. After a few disappointing seasons, GM Brian Burke thought it would be best to part ways with Jonas and give him a chance to try and prove himself with the Detroit Red Wings.
Vesa Toskala – 35
ingoalmagazine.net
Toskala was acquired from the San Jose Sharks with Mark Bell for Toronto's 1st round choice in the 2007 Entry Draft. He was brought in to the organization hoping to become the starting goaltender the team needed, but with a struggling team, his weaknesses as a goalie were magnified and he was eventually traded to the Anaheim Ducks in 2010.
Mikael Tellqvist – 32
gettyimages.com
Tellqvist was drafted by the Toronto Maple Leafs in 2000 with their 70th overall selection. After four seasons and playing a total of 40 games as a backup for the Leafs, Tellqvist was traded to the Phoenix Coyotes for Tyson Nash and Phoenix' 4th choice in the 2007 Entry Draft.
Curtis Joseph - 31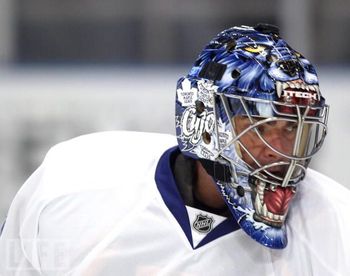 cdn.bleacherreport.net
Curtis "Cujo" Joseph was acquired by the Toronto Maple Leafs in 1998 via free agency from the Edmonton Oilers and played five years as their starter tallying 270 games. Cujo was a fan favorite for Leafs fans for years and brought the Leafs into the playoffs four out of five years he played as a Leaf. In 2002 his rights were traded to the Calgary Flames for Calgary's 3rd round choice in the 2003 draft, and was later reacquired via free agency in 2008.
Félix Potvin – 29
nhl.com/wild/images
Potvin, arguably one of Toronto's most favored goalies, was drafted by the Leafs with their 31st overall selection in 1990. Potvin would go on to play eight seasons with Toronto for a total of 369 games. Potvin would play in the NHL All Star games twice in 1993-94 and 1995-96. Felix set many records playing for the Leafs and lead them into the playoffs for four straight years and would help the team get to the third round of the playoffs in 1992-93.
Ed Belfour – 20
www.goaliecards.com
"Eddie the Eagle" was acquired by the Toronto Maple Leafs as a free agent from the Dallas Stars in 2002 and would play three years with the Leafs before leaving for the Florida Panthers as a free agent. He played a total of 170 games and led the Leafs to the playoffs twice. In 2005, Belfour passed Terry Sawchuk for most wins with a 9-6 victory over the Florida Panthers and would be honored a few days later at the ACC before a Bruins game.
Jeff Reese – 35
2.bp.blogspot.com
Jeff Reese was drafted by the Toronto Maple Leafs in 1984 with their 67th overall selection. Reese would play with the Leafs as backup for five seasons before being traded to the Calgary Flames with Gary Leeman, Alexander Godynyuk, Michel Petit and Craig Berube for Rick Wamsley, Doug Gilmour, Jamie Macoun, Kent Manderville and Ric Natress.
Damian Rhodes – 1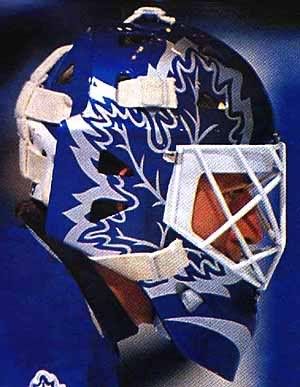 http://img.photobucket.com/albums/v727/miehana34md
Rhodes, Toronto's 6th round draft choice in 1987, played for the Toronto Maple Leafs from 1991 to 1996 when he was part of a three way deal that sent Kirk Muller to the Maple Leafs, Martin Straka and Bryan Berard to the New York Islanders and Wade Redden along with Rhodes to the Ottawa Senators on January 23.
Allan Bester – 30
cdn.sportsmemorabilia.com
Drafted 48th overall by the Maple Leafs in 1987, Bester played eight seasons with the Leafs, primarily as a backup as he bounced back and forth between the AHL and NHL. In 1991 Bester was eventually traded to the Detroit Red Wings for Detroit's 6th round choice (Alexander Kuzminsky) in the 1991 Entry Draft.
Michel Larocque – 1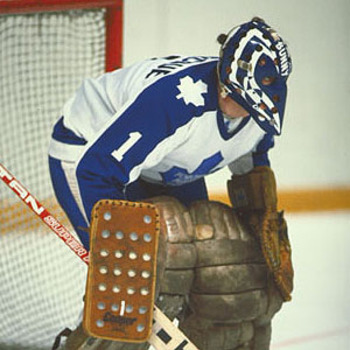 cdn.bleacherreport.net
Larocque was acquired by the Toronto Maple Leafs in 1981 from the Montréal Canadiens for Robert Picard. Larocque would spend three years with the Leafs before being traded to the Philadelphia Flyers for Rick St.Croix in 1983.
Doug Favell – 33
torontosportsmedia.com
Favell would spend three seasons with the Leafs as a backup, playing a total of 74 games. In his first year as a Maple Leaf, Favell would split duties with two other veterans on the Leafs roster, however he would play the most of all three. He was acquired by the Philadelphia Flyers in 1973 and was eventually traded to the Colorado Rockies in 1976.
Mike Palmateer – 29
www.canadiandesignresource.ca
Palmateer was drafted 85th overall by the Toronto Maple Leafs in the 1974 NHL Draft. He played as their starter for four straight years making him the only Leafs' goalie between Johnny Bower, Felix Potvin, Turk Broda, Curtis Joseph and Ed Belfour to hold on to the starting job for more than 2 years. In 1980, Palmateer was traded to the Washington Capitals with Toronto's 3rd round choice in the 1980 Entry Draft for Robert Picard, Tim Coulis and Washington's 2nd round in the 1980 Entry Draft. He was later reacquired from the Capitals in 1982 for cash.
Terry Sawchuk – 30
www.legendsofhockey.net
Terry Sawchuk only played with the Leafs for three seasons, however won a Stanley Cup with the team in 1967. Sawchuck was Claimed from the Detroit Red wings in Inter-League Draft, and eventually lost to the Los Angeles Kings in 1967 Expansion Draft.
Johnny Bower – 1
3.bp.blogspot.com
One of Toronto Maple Leafs' most iconic names, Bower has played a total of 475 games with the Maple Leafs over 12 seasons and has won four Stanley Cups as a Leaf. Bower was claimed from the Cleveland Barons (AHL) in Inter-League Draft in 1958 and would retire as a Maple Leaf in 1969. When Bower played, NHL teams would run with only one goalie, and as they introduced a second goalie into the roster, Bower had to say "I wasn't all that glad to see the two-goalie system come in. I wanted to play as many games as I could." Bower was elected to the Hockey Hall of Fame in 1976, and the AHL Hall of Fame in 2006. In 1998, he was ranked number 87 on The Hockey News' list of the 100 Greatest Hockey Players.
Thanks for reading!