MELTZER'S MUSINGS: JUNE 17, 2015
1) Every year at the NHL Draft, there are players whose actual draft position differs considerably from their rankings by Central Scouting, International Scouting Services and other services. That's because each NHL team maintains its own internal rankings.
In the 2015 NHL Draft, most of the credible scouting services have Youngstown Phantoms star center
Kyle Connor
falling a couple spots outside the top 10 of the first round. However, he is a viable candidate to slide up numerous spots from these projections and would not be a "reach" to be taken anywhere beyond the first two or three picks.
Although Connor's name is not one that most commonly comes up in speculation about whom the Flyers may take with the seventh overall pick, he very well could be in their wheelhouse depending on how the first six picks go. It is not a stretch at all to fathom a scenario in which Philadelphia or another team picking in the top 10 believe that Connor's upside is the highest among the players available when they make their first selection of the draft.
While the USHL has grown into a viable talent source for the upper end of the NHL Draft, the talent pool is still not as deep as the three CHL-affiliated leagues in Canada. In such a deep draft class, the quality-of-competition factor is enough to push Connor out of the top 10 in some of the more influential ranking (especially outlets that historically tend to hold a subtle degree of Canadian favoritism, such as The Hockey News).
Connor, who is committed to attending the University of Michigan in the fall and will turn 19 in December, has received glowing scouting reports from those who saw him play in the USHL: even projections of first-line NHL upside. He is said to have outstanding speed, high-end puck skills and hands, above-average hockey sense and a competitor's hunger to be a difference-maker.
A season ago, Connor more than held his own at the Under-18 World Championships on an extremely deep Team USA squad that featured the likes of probable 2015 top-two pick Jack Eichel, and 2014 first-round selections Dylan Larkin, Sonny Milano and Alex Tuch as well as highly regarded 2015 Draft eligible defenseman Noah Hanafin and projected 2016 first overall pick Auston Matthews. Connor posted seven points (four goals, three assists) in seven games, ranking behind only Eichel and Matthews in the goal-scoring department and tied for third on the squad in overall scoring.
Connor tore apart the USHL this past season, posting 80 points (34 goals and 46 assists) in 56 games during the regular season. He had three goals and four points in the Phantoms' short (four-game) playoff run.
At this point in his physical development, Connor is lanky. He only packs about 170 pounds on his 6-foot-1 frame and, as such, will need to add considerable muscular weight without compromising the speed that is one of his biggest assets. That is far from uncommon with players his age, and not a big concern for the long term. It simply means he will need a few years to get physically ready for the NHL.
The same goes for Connor's 200-foot game. It's fine for a teenage player at the USHL level but will be refined as he progresses to the pro level, where responsibilities without the puck and adherence to highly structured systems are paramount in today's game. Overall, Connor appears to be comfortably projectable as a future top-six NHL forward and may even have first-line potential in the long-term future.
2) One of the most special moments in
Kimmo Timonen's
celebration of winning the Stanley Cup in the final game before his retirement as an active player came when he presented the Cup to his children. That is moment none of the family members will ever forget.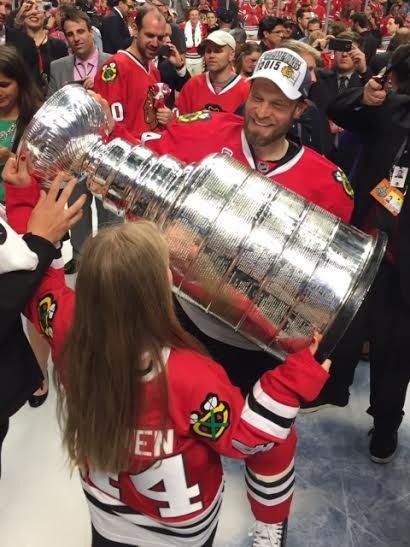 There was also a nice moment in the handshake line with the defeated Tampa Bay Lightning players when Timonen was warmly embraced by longtime Flyers defense partner
Braydon Coburn
, who managed a gracious smile despite his obvious personal pain. The next in line to offer congratulations was another former Flyers teammate,
Matt Carle
.
3) Contrary to a published report in Tuesday's
Philadelphia Daily News
, Lehigh Valley Phantoms rookie goaltender
Anthony Stolarz
did not have a sub 90 percent season save percentage
at any point
in the 2014-15 campaign, much less "for most of the season."
Stolarz, who backed up veteran
Rob Zepp
and was used sparingly at times, made two appearances in October, posting a .922 save percentage despite losing both starts. He had a .917 save percentage for the month of November -- buoyed by a 36-save shutout for his first pro-level win -- and a .919 season save percentage through November. The New Jersey native had his best and busiest month of the season in December, making four starts and seven overall appearances, with a 3-0-1 record, 2.37 GAA, .930 save percentage and a 32-save shutout of Hartford. That brought his season save percentage up to .924 through the end of the 2014 calendar year.
The rookie had a rocky second half of the season. A concussion suffered in the Dec. 26th game against Hershey certainly didn't help matters. Coincidentally or not, Stolarz struggled after his return with the team also playing quite poorly in front of him. He had a 3.99 GAA, 1-4-0 record and .879 save percentage in January. That dropped his season save percentage to .911 at that point. By the end of February, his season save percentage was .908 after posting 3.36 GAA and .899 save percentage for the month.
The season save percentage stat dropped to .905 at the end of March (one excellent start, one rough start, one mop-up relief appearance) and held at .905 at the end of the season (two April appearances).
Certainly, Stolarz still has a steep learning curve to navigate before he is potentially NHL-ready. Even during the first half of the season when his overall stats were strong, there were times he struggled with his positioning. However, when he was locked in -- especially in the two shutouts, where he was frequently hung out to dry and had to be spectacular -- he could be outstanding. The second half was very tough, although it should also be noted that the Phantoms were injury-riddled on defense, lacked scoring and the combination of irregular playing time and the typical issues that face many rookies in general and inexperienced huge-framed goalies in particular also came into play.
There are no guarantees that Stolarz will maximize his still-raw potential. However, he has a good head on his shoulders and a strong work ethic to go along with his size and natural athleticism. That gives him a fighting chance. He's already come a long way since the Flyers drafted him in the second round of the 2012 NHL Draft -- Stolarz was all over the place at his first camp in the organization -- but has an equally long way to go. He's gone from project to prospect, but anyone who expected him to fast-track to the NHL was being unrealistic.
From day one with Stolarz, it has been a vision of what he could become in the long-term future with a lot of hard work and an equal amount of organizational patience through the growing pains that made him intriguing. Nothing has changed. He faced his share of adversity as a first-year AHL player and will probably have more adversity to come.
To make declarations at this point about whether he's on an NHL track is extremely premature. In the entire NHL, only one goaltender selected in the last seven drafts -- Washington's
Braden Holtby
-- has reached the 150-game mark at the top level. In other words, goalie development is a very, very long process. Stolarz could very well be in his mid-20s and maybe even about 27 years old by the time it is clear whether he'll be an NHL regular.
A goalie's early 20s are his learning curve years. That's the same reason why those who gave up on
Steve Mason
during his post Calder Trophy struggles in his early 20s -- and then kept bringing out his stats from that period as "proof" that Mason's turnaround in Philadelphia was an illusion -- badly missed the boat. He was not mature enough yet as a goaltender or a person to handle adversity but eventually things clicked.
4) Today in Flyers History: On June 17, 1990, longtime Flyers left winger
Bill Barber
was selected for induction into the Hockey Hall of Fame in Toronto along with
Gilbert Perreault
and
Fernie Flaman
. Despite being forced to retire at age 32 due to chronic bad knees, Barber remains the most prolific goal-scorer in franchise history with 420 regular-season tallies. He is second to Bobby Clarke in overall scoring, with 883 points in the regular season.
Barber was also a fine two-way player who was unselfish and team-oriented to the hilt. The LCB Line left winger could have scored even more had that been his objective but never cared about individual statistics.
5) Speaking of Hall of Famers,
Bernie Parent
will be a special guest at this year's 49th annual
Bridgeton Invitational Tournament
at Alden Field in the Bridgeton City Park from Aug. 1-15. Bernie's special night will be on Thursday, August 13th. We will have more information on the event -- both here on HockeyBuzz and on the Flyers Alumni website -- in the weeks to come.
6) Registration for the Fyers 5K race on Oct. 17 is now open at the Flyers official website. The event -- which is open both to competitive and amateur runners and walkers -- costs $40 per participant for advanced registration with all proceeds going to the benefit of Flyers Charities. Day-of-event registration is $45.
The event, which will be held at the Wells Fargo Center, has the following tentative schedule:
8:00 a.m. Check-in/Registration begins
8:30 a.m. Warm-up
9:00 a.m. 5K Run begins
10:00 a.m. Medal Ceremony
New to this year's event, runners will receive a commemorative medal, a Flyers 5K t-shirt, and a running bib with racing chip. The top male and female runners in each of four age groups will be awarded a pair of game tickets during the Flyers 2015-16 regular season, as well as an autographed hockey stick.
Flyers ambassadors and Alumni notables slated to appear at the even include Parent and
Todd Fedoruk
. The Flyers wives and the Ice Girls will also be there.