"It's only an exhibition game."
A classic fan line that carries two realities:
1. It's true. It is an exhibition game, and as such, it carries no weight whatsoever.
2. But it's hard to not feel a little unsettled when you get handled 5-0.
Before we jump into a few notes from the game, I just have to say how awesome it is having hockey back - meaningless loss or not.
Nothing better than being able to watch hockey in the afternoon while working. I can get used to that!
Let's get into it...
The Bad
I saw a lot of fans pointing the blame at Bob during and after the game. It makes sense, he's an easy target. A guy that hasn't lived up to the expectations (and huge money), and who has fallen out of favor very quickly with a lot of the Cats faithful as a result.
While I've had my issues with Bob over the season, I think it's unfair to place the blame today solely on him. Sure, there was a couple times where he appeared a little too deep in his crease, but that defense in front of him was rough.
Yes. Exblad and Weegar were out, and Brown and Keeper were in. However, I don't think that's as big of an excuse as some fans are making. To me, if your at the NHL level, there's some basic things you should be doing as a defensemen.
One of the big ones is clearing the front of the net. There were so many times today there was a wall of bodies setup in front of Bob. Multiple times shots (and goals) whizzed by him with him not even seeing them.
The other is trying to drive the opposition to the outside. There weren't many times the Panthers defense was successful in keeping the threats contained to the outside. Tampa was able to attack down the middle pretty frequently. And on the flip side of the ice, the Bolts defense pretty much shut down the Cats and didn't allow them to ever get any type of sustained pressure.
When Saturday comes around, Florida needs to clear the front of their net and try to keep the skilled Islander forwards to the outside and minimize their time in the dangerous areas of the ice.
The Ugly
The Power Play...my God...what is that?
The Cats went 0-4 on the PP today. I haven't known what the game plan is for the PP squad this whole season, but today was about as frustrating as it gets.
First off, I don't think I've seen a team pass as much as Florida when on the man advantage. Not only that, but the forced/cute passes are mind-boggling. I lost count of how many times they tried passing through high-traffic areas, where the puck had no chance to get on someone's stick, except for a Lightning player's.
And then there's the use of the point...there were countless times today that a Florida player would be in close for a stuff attempt, or in a solid scoring position, and for some reason, would chose to kick the puck all the way back up to the point. And you know what the defenseman would do? He'd pass it and the cycle of strange passing decisions would start all over again.
What's interesting is that Tampa did the exact opposite. They kept their PP simple - one or two passes, put it on and repeat. They went 1/3 as a result.
We've said it all year, but the Cats PP has to get going. It could be their bread and butter. If they want to get the edge (which they can use), no doubt about it that the weapons they have need to get this thing clicking.
Please ease up on the passing, boys, so I can stop looking like this during games!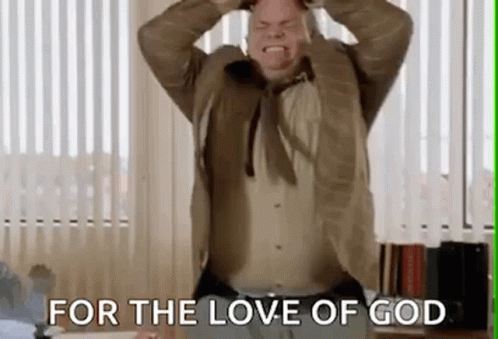 The Confusing
Where's the offense?
The Good
Since it is an exhibition game, why end on a negative note? We already talked about a couple not-so-good things, so let's talk about some good ones.
I was impressed with Keeper in the offensive zone. I thought he showed good patience and poise - even making some really smooth moves on the line to fake out and get around wingers that were putting pressure on him.
How about Boyle? What a beauty. Throws down the gloves in an exhibition game. He was definitely frustrated and I know he has a history with that guy back to his NJ days. Love a guy that tries to spark the bench, even in a game that doesn't matter, because they're going to need that when things do.
I think my favorite part of the afternoon was seeing the Canes players watching along the glass as they waited for their game to start. It reminded me of being a kid, or even now in men's league, watching the other game ahead of yours before you have to head into the locker room and start getting dressed. Too funny seeing the pros doing the same thing today - HA!
_______________________
We're three days away from the season officially being back on! Still some kinks to work out, so let's hope they hit the practice ice hard and are ready to go on Saturday.
Go Panthers!