*UPDATE*
Kings buyout Dion Phaneuf.
Per NHL.com:
"The LA Kings have bought out the contract of defenseman Dion Phaneuf, Kings Vice President and General Manager Rob Blake announced today."
It's the night before the 2019 Draft. You're sitting on your couch in full-Costanza mode. You have crumbs on your shirt and a beer in your hand.
Then the the phone rings...
It's the the Kings front office. Rob Blake ate a bad giant sub (Homer Simpson style) and can't make the draft. They need you to step in and take the wheel.
What moves do you make? Who are you taking at #5 and #22? Do you play it safe, or go the Al Davis route and be a total maverick?
Before you answer, let's refresh on some key items from this past season, because as we know, there's a lot of work to do...
The Kings finished 8th in the Pacific Division after going 31-24-9 (71 pts). Their team stats were pretty eye-opening in regards to how rough they were - most notably the special teams and the glaring goals-for (GF) stat:
PP
- 15.8% (27th)
PK
- 76.5% (29th)
GF
- 202 (30th)
GA
- 263 (22nd)
The oft-injured Quick finished with a 16-23-7 record that saw him with a 3.38 GAA - prompting the "do you trade him" debate yet again. Obviously there are a lot of factors and things that go into moving a guy like JQ. There's his age, the injury factor, contract, etc. But, the good thing is that if you can move him, you'll free up cap space and have two guys behind him (Campbell/Petersen) that showed they're capable of playing at the NHL level if need be. Don't forget about Spencer Knight floating around out there. Is he everything he's hyped up to be?
Then there's the scoring, or lack thereof...
It's hard enough to find success when your defense or offense are sub-par. It's even harder when both aspects struggle. The Kings certainly expected more out of their offense the past couple seasons and can benefit greatly by adding some goal scorers (either through the draft, via trade or both). Below are the top scorers from the 2018-2019 season:
Anze Kopitar
- 60 pts
Dustin Brown
- 51 pts
Drew Doughty
- 45 pts
Iilya Kovalchuk/Tyler Toffoli
- 34 pts
One of the thing's in the LA's favor this year is that there's are no pressing UFA signings to make. But there are some RFAs to think about:
Brendan Leipsic (25)
Alex Iaffalo (25)
Adrian Kempe (22)
Matt Roy (24)
All the above guys are 25 and under. Since the Kings have to go young, they fit that need. Maybe a couple could be part of some kind of package in a trade? However, I'd like to see the Kings work to extend and keep Kempe around for a long time. I think he's one of those guys that can be a future star and with his game and age, he's on the right track.
Some other guys to keep in mind, in terms of trade bait or extending, as they get closer to the potential end of their LA runs are:
Tyler Toffoli - extended in 2017 for 3-years worth $13.8M
Kyle Clifford - one year left on his contract at $1.6M for the season
Trevor Lewis - signed a 4-year extension in 2016 where he gets $2M per
I'd like to see Toffoli stick around. A little bit of a down year last season, but I think he'd benefit by playing with a group of young guns (if they go that route) next season, and ironically, at 27, could serve as a veteran/mentor for the young guy coming up.
According to CapFriendly's site, the Kings currently sit at a projected $11,728,106 M. If they can move some of the aging core and their big contracts, it would be very beneficial. But we know the problem is that not many teams want to take on some of these guys at the terms their at.
The Kings are in a tough spot. If they can move any of the big contracts, they'll have to probably eat a lot of money, and since they're rebuilding, they most likely can't afford to throw in any sweeteners in terms of picks/prospects to make the big contracts more appealing - thus saving themselves from having to retain moola.
There you have it. A quick glance at just a fraction of things to think about as the draft approaches.
So what would you do and what would you like to see happen on June 21 - 22 and the July 1st?
Assuming guys like Jack Hughes and Kaapo Kakko are more than likely going in the first two picks, along with some of the other top prospects below:
Cole Caufield (C/RW)
Bowen Byram (D)
Alex Turcotte (C)
Trevor Zegras (C)
Dylan Cozens (C)
Vasily Podkolzin (RW)
Kirby Dach (C)
Matthew Boldy (LW)
Peyton Krebs (C)
Take a look at this great
Sportsnet article
to see a break down of the above players, as well as a gripe of other draftees and what they could bring to LA depending on who the Kings snag.
Here's a list of 10 players (past and present) who were drafted at #5 and have gone on to have terrific careers:
10 - Ryan Whitney
9 - Elias Lindholm
8 - Brayden Scheen (remember him?)
7 - Elias Pettersson
6 - Carey Price
5 - Blake Wheeler
4 - Phil Kessel
3 - Bill Guerin
2 - Scott Stevens
1 - Jaromir Jagr
Lastly, enjoy this picture of Rogie Vachon to start off your weekend. Bummer that we'll probably never see mustaches (outside of November) and chest hair on a regular basis in the league anymore. He's looking like Randy Marsh from South Park in this pic...HA!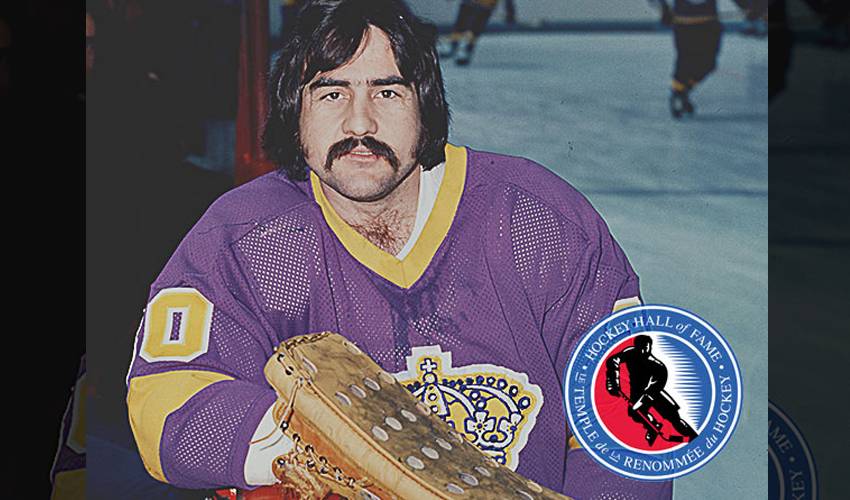 [Photo from NHLPA.com]
Go Kings, Go 👑 👑 👑