REMEMBERING TERTYSHNY AND MICKEY
Today marks the 17th anniversary of the horrific boating accident in British Columbia that took the life of young Flyers defenseman Dmitri Tertyshny. Tertyshny's wife, Polina, and son, Alexander, ended up settling permanently in Philadelphia. Polina was four months pregnant with Alexander at the time of Dmitri's death.
Tertyshny, who had recently completed a promising NHL rookie season, went out for a day of boating in the Okanagan Valley near Kelowna, British Columbia, with fellow Russian defenseman, Mikhail Chernov, forward Francis Belanger and a local acquaintance of Belanger's. Tertyshny and Flyers minor league prospects Chernov and Belanger were taking a break from a summer power skating camp in Kelowna.
With Belanger piloting the rental boat, the other passengers were seated aboard the 17-foot vessel. At about 7:25 pm, the boat hit a steep wave and Tertyshny, kneeling on a seat on the bow, was thrown overboard. His friends watched in horror and anguish as the 22-year-old was run over by the power boat's propeller, which slashed his neck and jugular vein. Bleeding uncontrollably, an unconscious Tertyshny was brought back onboard as the boat returned to shore and an emergency crew arrived three minutes later.
The young player was rushed to Kelowna General Hospital, but it was already too late. He bled to death at around 7:30 p.m. while still on the boat. The hockey world lost a promising young player but more important, Polina lost her husband and the still-unborn Alexander lost his father.
Polina Tertyshny remained in the Philadelphia area, making it her home. Nicknamed Sasha, young Alex became a hockey player. Today, he attends Choate Rosemary Hall School where he plays for the Wild Boars team. The family has remained dedicated Flyers fans through the years since Dmitri's untimely passing.
Today also marks the 34th anniversary of the passing of former Flyers right winger Larry Mickey. Plagued for years with emotional and personal problems, Mickey's life was never the same again after a head-on car accident in 1967 claimed the life of his wife, Eleanor, and left him with relatively minor injuries. Hockey became Mickey's only solace. When his career ended, he became increasingly despondent and a personal downward spiral ended with him committing suicide.
In the summer of 1971, the Flyers acquired Mickey from the Los Angeles Kings in exchange for Wayne Hillman. Named an assistant captain before the 1971-72 season, Mickey dressed in 14 games for the Flyers. He scored one goal and three points. On Nov. 16, 1971, the Flyers traded Mickey to the Buffalo Sabres for Larry Keenan.
Overall, Mickey played 292 games in the NHL for the Chicago Blackhawks, New York Rangers, Montreal Canadiens, Kings, Flyers and Sabres. For his career, he notched 39 goals and 92 points. He was a much more prolific scorer in the minor leagues, but did manage a 15-goal NHL season for Buffalo in 1972-73.
**********
2016 Flyers Alumni Fantasy Camp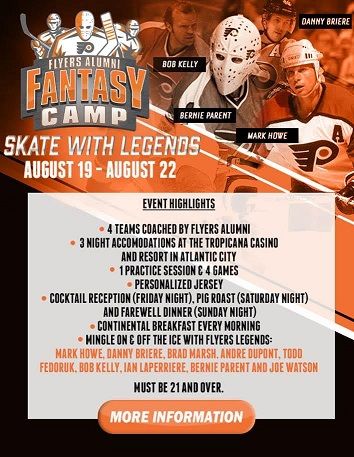 The 2nd annual Flyers Alumni Fantasy Camp will be held Aug. 19 -22, 2016 in Atlantic City. The Alumni have assembled an excellent group of instructor/coaches this year, including Hockey Hall of Famers Bernie Parent and Mark Howe, along with the likes of Danny Briere and Flyers assistant coach Ian Laperriere.
For more information,
click here
.