COUTURIER PUT ON IR
The Flyers have removed the day-to-day description of
Sean Couturier's
lower-body injury and have placed him on the injured reserve list. While they can back-date it to the time of the injury (he last played on Jan. 19), the fact that he was put on IR over the All-Star break is not an encouraging sign for his readiness to return to practice -- let alone play -- when the team returns to prepare for Tuesday's game against the Montreal Canadiens.
Although the Flyers earned an overtime win against the NHL-leading Washington Capitals this past Wednesday, it has been obvious during Couturier's absence how much the team misses him when he is not in the lineup. The team has had a hard time stopping the bleeding when other teams start to generate momentum and the Flyers desperately need a stabilizing shift or two restore order. The second periods of the Pittsburgh and Washington games (although the latter ended well for the Flyers) and the first period of last week's game against Boston were scenarios where Couturier's presence could have at least helped the Flyers gain their equilibrium sooner.
Couturier alone isn't the difference between winning and losing, but his presence at least keeps the team out of some mismatches when the top line isn't on the ice. It is not entirely coincidental that the team is 2-5-2 in the nine games he's missed to date and 19-11-4 when he's been available.
**********
FLYERS IN ALL-STAR GAME THROUGH THE YEARS
The NHL All-Star Game, now being conducted as a three-stage 3-on-3 tournament, will air on NBC Sports Network on Sunday. Each mini-game will be 20 minutes in length. Team Metro, featuring Flyers captain
Claude Giroux
will play against Team Atlantic, featuring Giroux's friend and former Flyers linemate
Jaromir Jagr
at 5 p.m. ET. At 6 p.m., Team Central plays Team Pacific. At 7 p.m., an Eastern Conference All-Star team will play a Western Conference team.
Here is an historical rundown of Flyers' participants in the NHL All-Star Game (or substitute events) from the team's first season through present day:
1967-68 Leon Rochefort
1968-69 Ed Van Impe, Bernie Parent
1969-70 Bobby Clarke, Bernie Parent
1970-71 Bobby Clarke
1971-72 Bobby Clarke, Simon Nolet
1972-73 Bobby Clarke, Gary Dornhoefer
1973-74 Bobby Clarke, Bernie Parent, Ed Van Impe, Joe Watson
1974-75 Bobby Clarke, Bernie Parent, Ed Van Impe, Jim Watson,Bill Barber, Fred Shero (Coach)
1975-76 Bill Barber, Andre Dupont, Reggie Leach, Rick MacLeish (sub for Bobby Clarke), Fred Shero (coach), Wayne Stephenson, Jim Watson
1976-77 Tom Bladon, Bobby Clarke, Gary Dornhoefer, Rick MacLeish, Bernie Parent, Fred Shero (coach), Jim Watson, Joe Watson
1977-78 Bill Barber, Tom Bladon, Bobby Clarke, Bob Dailey, Fred Shero (coach), Wayne Stephenson, Jim Watson
1978-79
Challenge Cup vs. USSR
: Bill Barber, Bobby Clarke
1979-80 Bill Barber, Norm Barnes, Reggie Leach, Rick MacLeish, Pete Peeters, Brian Propp, Jim Watson
1980-81 Bill Barber, Bob Dailey, Paul Holmgren, Pete Peeters, Pat Quinn (coach), Behn Wilson
1981-82 Bill Barber, Brian Propp
1982-83 Mark Howe, Pelle Lindbergh, Darryl Sittler
1983-84 Tim Kerr, Brian Propp
1984-85 Tim Kerr, Pelle Lindbergh
1985-86 Bob Froese, Mark Howe, Mike Keenan (coach), Tim Kerr, Dave Poulin, Brian Propp
1986-87
Rendezvous '87 vs. USSR
: Ron Hextall, Mark Howe, Tim Kerr, Dave Poulin
1987-88 Ron Hextall, Mark Howe, Mike Keenan (coach), Dave Poulin, Kjell Samuelsson
1988-89 Rick Tocchet
1989-90 Brian Propp, Rick Tocchet
1990-91 Rick Tocchet
1991-92 Rod Brind'Amour
1992-93 Mark Recchi
1993-94 Gary Galley, Eric Lindros, Mark Recchi
1995-96 Eric Desjardins, John LeClair, Eric Lindros, Craig MacTavish
1996-97 Paul Coffey, Dale Hawerchuk, John LeClair, Eric Lindros
1997-98 Eric Lindros, John LeClair
1998-99 Eric Lindros, John LeClair
1999-2000 Roger Neilson (Assistant Coach), Eric Lindros, John LeClair, Mark Recchi, Eric Desjardins
2000-01 Simon Gagne, Roman Cechmanek
2001-02 Jeremy Roenick
2002-03 Jeremy Roenick, Ken Hitchcock (Assistant Coach)
2003-04 Keith Primeau, Jeremy Roenick, Ken Hitchcock (Assistant Coach)
2006-07 Simon Gagne
2007-08 Mike Richards, Kimmo Timonen
2008-09 Jeff Carter
2010-11 Claude Giroux, Daniel Briere, Peter Laviolette (Coach)
2011-12 Claude Giroux, Kimmo Timonen, Matt Read (rookie), Sean Couturier (rookie), Scott Hartnell
2014-15 Claude Giroux, Jakub Voracek
2015-16 Claude Giroux
**********
FLYERS ALL-DECADE 3-on-3 TEAMS
In light of the format the All-Star game is using this year, Flyers writer Kyle Phillippi came up with an idea to create
All-Decade Flyers 3-on-3 teams
with two forwards and one defenseman.
The following would be my selections. I did not necessarily look for the "best scoring" players from each decade but, rather, the unit best suited to the demands of 3-on-3 play -- puck control, speed in open ice and transition, and elements of playmaking and finishing ability.
TEAM 60s:
Andre Lacroix, Jean-Guy Gendron, Allan Stanley.
Explanation: Lacroix was the closest thing the Flyers had to an offensive star in their early years and he had good chemistry with Gendron. Although Hockey Hall of Famer Stanley was 42 years old and at the tail end of his career by the time he got Philly -- and Ed Van Impe and Joe Watson were the Flyers' top two defensemen --both of the latter two players were very much stay-at-home types while Stanley, in his Toronto glory years, regularly put up 30 to 35 points a year. In lieu of any true offensive-minded defensemen for the Flyers in their earliest years, I rolled the dice that the veteran of 1,244 NHL games could find one last trick up his sleeve.
TEAM 70s:
Bobby Clarke, Rick MacLeish, Tom Bladon.
Explanation: Clarke needs no explanation; apart from his famous leadership and faceoff prowess, he was a prolific playmaker. I chose MacLeish over Hall of Famer Bill Barber and pure sniper Reggie Leach because MacLeish's speed and deadly wrist shot would have been tailor-made for 3-on-3 sudden death and this All-Decade team does not allow the stacking of lines. Of course, you could hardly go wrong with Barber or Leach as the second member of the line. Bladon was a fine point-producer. Bob "the Count" Dailey, with his booming slap shot, was also considered.
Team 80s:
Pelle Eklund, Brian Propp, Mark Howe.
Explanation: Open ice is the key factor here. In a 3-on-3, I'd go with Propp or Ilkka Sinisalo over Tim Kerr if I could only pick one. Kerr did his best work right in front of the net but could score in a variety of ways. However, flying up and down the ice was not his strong suit. Propp fits the bill perfectly here. Eklund was a tremendous playmaker and a very smooth skater. Ken Linseman would also have worked well here. Peter Zezel was a fine passer. As for the defenseman, Howe is a no-brainer pick.
Team 90s:
Eric Lindros, Mark Recchi, Eric Desjardins.
Explanation: Lindros is a no-brainer. I went with Recchi over John LeClair for the 3-on-3 format because of Recchi's playmaking ability as well as his finish. Desjardins is also a no-brainer, although a younger and healthier version of Paul Coffey than he was during his Flyers days would be on an all-time NHL 3-on-3 team.
Team 2000s:
Peter Forsberg, Simon Gagne, Kim Johnsson.
Explanation: Forsberg, even in declining health, was still a magician with the puck. Linemate Gagne would attest to that in real life. Those two players had some of the best chemistry of any linemate combo in franchise history. It was just a shame Forsberg could not stay reasonably healthy but he and Gagne were still a sight to behold. During the Ken Hitchcock era, Johnsson took over from Desjardins for a couple years as the Flyers' best all-around defenseman.
Team 2010s:
Claude Giroux, Danny Briere, Kimmo Timonen.
Explanation: All three players thrived in high-pressure, clutch situations. Giroux is a big reason the current Flyers are a good team in 3-on-3 overtimes and one would have to think Briere would have piled up the game-winners at 3-on-3 had it been the regular-season method of deciding tied games at the end of regulation. Timonen's smarts and all-situation abilities make him the pick here, although there was only one Chris Pronger. Not that Timonen was fast by the 2010s but he still seemed to get from Point A to Point B in time and tended to think defensive safety first when in doubt. The vast amounts of territory to cover as the lone defenseman worried me a bit in considering 2010s Pronger. Within the area he could cover, Pronger was still a major force -- and certainly still a bigger offensive zone threat than Timonen or most other NHL defensemen. However, if an opponent were to get a step on him in a 3-on-3 or use all the extra space to go wide, he'd have had no prayer of catching up.
**********
PHANTOMS TAKE 5-GAME WIN STREAK INTO BREAK
The Lehigh Valley Phantoms completed a home-and-home sweep of the Wilkes Barre/ Scranton Penguins on Saturday night as they captured a 5-3 road win. As the AHL enters its All-Star break, the Phantoms (22-21-3) sit four points behind the Providence Bruins for the final playoff spot in the division.
Phantoms captain
Colin McDonald
continued his recent torrid offensive stretch with a two-goal effort. He has 10 points (six goals, four assists) in his last four games. McDonald, who led the AHL in goal-scoring during his 42-tally campaign with Oklahoma City in 2009-10, has nine goals and 17 points in 27 games for the Phantoms this season.
Lehigh Valley also got goals on Saturday night from
Taylor Leier
(12th goal, one assist),
Chris Conner
(10th) and
Pavel Padakin
(1st goal in the AHL), while veteran defenseman
Andrew MacDonald
collected three assists and AHL All-Star center
Nick Cousins
chipped in one helper. Leier missed a chance for his second of the game on an empty net goal attempt set up by McDonald. All-Star goaltender
Anthony Stolarz
earned the win with 24 saves on 27 shots.
Third-year pro defenseman
Mark Alt
was a plus-two in the game. He enters the All-Star break leading all Lehigh Valley blueliners at plus-12. Rookie defenseman
Samuel Morin
was plus-five with four points (one goal, three assists) for the month of January. A healthy scratch in Friday's game in Allentown,
Robert Hägg
returned to the lineup on Saturday (minus-one, one shot). The second-season AHLer was minus-six with no points in 10 January games. He sat out two as a healthy scratch.
The Phantoms outshot WB/S by a 35-27 margin, went 1-for-8 on the power play and 5-for-7 on the penalty kill. After the All-Star break, the Phantoms returned to action with road games aganst the Bridgeport Sound Tigers on Friday and the arch-rival Hershey Bears on Saturday.
**********
PROSPECT QUICK HITS
Following is a select rundown on how notable Flyers prospects fared in action on Saturday.
* OHL:
Travis Konecny
racked up nine shots on Saturday, collecting two goals and one assist in the Sarnia Sting's 5-2 road win over the Flint Firebirds. In 11 games since his trade to the Sting, Konecny has compiled 20 points (nine goals, 11 assists). Sarnia is right back in action Sunday afternoon, visiting the Windsor Spitfires.
* QMJHL: Recently returned to the Saint John SeaDogs' lineup after knee surgery,
Samuel Dove-McFalls
did not play in Saturday's 5-3 road win over the Acadie-Bathurst Titans. The reason for the absence was undisclosed.
* WHL:
Ivan Provorov
did not record a point but was plus-one in the Brandon Wheat Kings' comeback 2-1 win over the Red Deer Rebels after trailing heading into the third period. Provorov is plus-33 at even strength in 39 games this season and has posted 40 points (10 goals, 30 assists). On Sunday, Provorov and the Wheaties are on the road to take on
Travis Sanheim
(looking to extend an 11-game point streak),
Radel Fazleev
and the rest of the Calgary Hitmen in a 6 p.m. ET tilt. The Hitmen were idle on Saturday night.
* SHL: Eighth-place Brynäs IF split a Friday/Saturday home-and-home set with fourth-place Luleå HF. On Friday prospects
Oskar Lindblom
and
Felix Sandström
played pivotal roles in Brynäs' 2-1 home win. Lindblom tallied the game-winning goal on the power play in the second period and had a power play assist on BIF's first goal of the game. Sandström stopped 19 of 20 shots to earn the victory in goal. On Saturday in Luleå, Sandström stopped 26 of 27 shots in regulation and overtime and one of three in a shootout as LHF took a 2-1 win. Lindblom was one of BIF's best players but played into some tough puck luck and did not record a point.
**************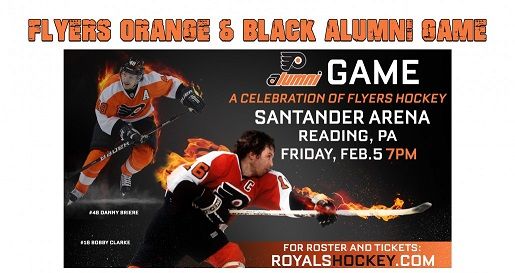 In celebration of nearly a half-century of Flyers hockey, the Flyers Alumni Association is bringing together players representing every decade of franchise history for a special Orange vs. Black intrasquad Alumni game on Feb. 5, 2016 at 7 p.m. ET. The game will be held at the Santander Arena in Reading, PA, home of the Philadelphia Flyers' ECHL affiliate, the Reading Royals.
Confirmed playing participants include Hockey Hall of Famers
Bob Clarke
and
Mark Howe
, recent Flyers stars
Danny Briere
and
Kimmo Timonen
, Flyers Hall of Fame inducteee
Joe Watson
, longtime fan favorite
Bob "the Hound" Kelly
as well as the likes of
Paul Holmgren
, mid-1980s captain
Dave Poulin
and defenseman
Brad Marsh
.
Full playing rosters will be announced on Feb. 2.
The six coaches of the two sides will be Hockey Hall of Fame inductee
Bill Barber
, Flyers Hall of Famers
Brian Propp
,
Rick MacLeish
and
Dave "the Hammer" Schultz
as well as
Bill Clement
and
Don "Big Bird" Saleski
. Clement will also be answering questions fans submit on social media.
Tickets for the Alumni game start at $12. All premium packages are complete sell-outs. A post-game VIP meet-and-greet with all of the Alumni was an almost instant sell-out. A youth hockey skills clinic run by the Alumni and a pre-game dinner buffet have also sold out.
For more ticket information on the game itself,
click here
.