The Blackhawks lost both games against the Wild in the inaugural Tom Kurvers Prospect Showcase this past weekend in St. Paul, Minnesota. Each game was tied near the end before Marco Rossi scored the Game 1 regulation winner and Nick Swaney notched the Game 2 shootout winner.
Although Lukas Reichel was fun to watch and demonstrated why he was worthy of a 1st round selection, Michal Teply was the best forward for the Hawks in both games. On the blueline, Jakub Galvas was the most steady showing off his previous 5 years of pro experience in Europe.
--
Game 1: Blackhawks 2, Wild 3
Starting Lineup
Dach - Reichel - Osipov
Hardman - Barratt - Teply
Busdeker - Slavin - Altybarmakian
Pour - Gicewicz - Luypen
Phillips - Regula
Allan - Crevier
Galvas - Krutil
Del Mastro
Soderblom
Game Notes
* Each team was permitted to dress an extra skater. In the first game, the Hawks dressed 7 defensemen and the standard 12 forwards.
* Dmitri Osipov wore the captain's C while Mike Hardman and Alec Regula wore the A's.
* Arvid Soderblom played the entire game between the pipes for Chicago.
* Hardman dropped the gloves with Calen Addison.
Scoring Recap
1st Goal: Chaffee (0-1) PP
There was confusion by everyone on the PK unit on who to cover and where to be due to fixating too much on the puck rather than focusing on defending either a certain player or a certain region.
2nd Goal: Busdeker (1-1) PP
D.J. Busdeker received a breakout pass from Nolan Allan and took it from the far blueline then skated against 4 defenders and part the Red Sea with a blazing shot that fooled Wild goalie Hunter Jones.
3rd Goal: Teply (2-1) PP
Reichel kept the puck in the zone with a swift and nifty move to get it to Evan Barratt who cycled down low in the corner before dishing to Teply in the slot. Teply converted a quick stuff shot.
4th Goal: Rossi (2-2)
Isaak Phillips held on to the puck too long at his blueline instead of getting it deep. Osipov and Regula got caught puck watching rather than having one take the puck carrier and the other pick up the trailer.
5th Goal: O'Rourke (2-3) PP
Ryan O'Rourke cashed in on a point shot to register the eventual game winner after being the benefactor of a fast-paced passing sequence by his teammates as they mainly overloaded the left side of the zone.
--
Game 2: Blackhawks 3, Wild 4 (SO)
Starting Lineup
Dach - Reichel - Teply
Hardman - Slavin - Altybarmakian
Pour - Yetman - Barratt
Osipov - Gicewicz - Howarth
Luypen
Phillips - Regula
Allan - Crevier
Del Mastro - Galvas
Morris
Game Notes
* Again, each team was permitted to dress an extra skater. In the second game, the Hawks opted for 13 forwards and the standard 6 defensemen.
* Osipov and Regula remained as captain and alternate, respectively, but Barratt wore the other A instead of Hardman.
* Cale Morris and Tom Aubrun split the goaltending duties.
* Game 2 was significantly more chippy with loads of hard hits and cheap shots plus fights featuring Barratt and Osipov in the same melee.
Scoring Recap
1st Goal: Altybarmakian (1-0)
Hardman made a hit to force a turnover that landed on the stick of Andrei Altybarmakian who bulldogged his way past one defender in the right circle then rifled the puck past 3 others and the goalie.
2nd Goal: Boldy (1-1)
Matt Boldy picked Allan's pocket and drove to the net creating a rebound chance for Rossi. Reichel and Allan don't pick up Rossi as their backs were turned to the developing play as they puck watched.
3rd Goal: Barratt (2-1)
After some back and forth rushes by both teams, Jakub Pour carried the puck down the left wing then spotted Barratt who deftly tapped in the pass as he skated through Minnesota's defensive doorstep.
4th Goal: Boldy (2-2)
Aubrun tried to smother the loose puck on the goal line but Boldy knocked it in as Josiah Slavin and Phillips tried to help with the freeze while Barratt was knocked on his keister earlier on the shift.
5th Goal: Teply (3-2)
Reichel corralled the puck in the left circle and connected with a wide-open Teply on a backdoor goal. This was one of several instances in both games where Reichel and Teply teamed up on scoring chances.
6th Goal: Rossi (3-3)
The Wild forced overtime after brisk passing ended with Rossi firing a shot from the right circle with 4 seconds remaining. Rossi and Boldy were dangerous during the entire showcase individually and as a duo.
Shootout: Swaney (3-4)
Wild
* Rossi (miss)
* Boldy (miss)
* Beckman (miss)
* Swaney (goal)
Blackhawks
* Reichel (miss)
* Pour (miss)
* Teply (miss)
* Regula (miss)
--
Prospect Observations
* Teply appears much stronger this season as he was impressive with engaging in every zone, cycling the puck with his enhanced strength to ward off defenders, and being courageous to post up in the paint.
* Galvas played safe and dependably in his end as a result of sound fundamentals, simple plays, patience, and escapability.
* Pour was convincing as a possible training camp dark horse after proving he drives to and crashes the net, blocks shots, throws his weight around, and exhibits poise under pressure.
* Reichel backchecked consistently and put on display top-shelf offensive ability with his sublime vision, creativity, shiftiness, and willingness to drive through traffic and take the puck to the net.
* Colton Dach needed to park more in the crease and create havoc but he definitely loves to shoot although many of them were flubs.
* Allan lived up to the billing of a stay-at-home defenseman with an edge yet was quite good at moving the puck and getting shots to the net.
* Regula executed crisp passes when he had time and space but he struggled when he lacked those luxuries; his ability to maneuver under pressure is a work in progress.
* Hardman threw his weight around and finished his checks with regularity as a heavy forechecker.
* Barratt created offense either with playmaking or putting himself into position to receive passes for shots off the rush.
* Altybarmakian hustled to loose pucks, played physical, and finished his checks.
* Hardman, Barratt, and Altybarmakian played with lots of sandpaper.
* Slavin was a tamer version of Hardman as a heavy forechecker who is more industrious than physical.
* Jaden Luypen is noticeable shift after shift with his jump and energy to roll up his sleeves and get his hands dirty.
* Carson Gicewicz was quietly effective on the forecheck and penalty kill by closing off time and space and wielding an active stick.
* Louis Crevier, Ethan Del Mastro, Allan, Phillips, and even Galvas were all willing to engage physically.
* Crevier is like Regula in that he's sloppy when under pressure but does use his long reach to his advantage while defending.
* Chad Yetman, Kale Howarth, and Michael Krutil as well as Busdeker and Del Mastro had their moments but need substantial time on the farm (or in juniors in the case of Del Mastro).
* Osipov demonstrated why he is a career minor leaguer as he could barely connect on his passes.
--
Training Camp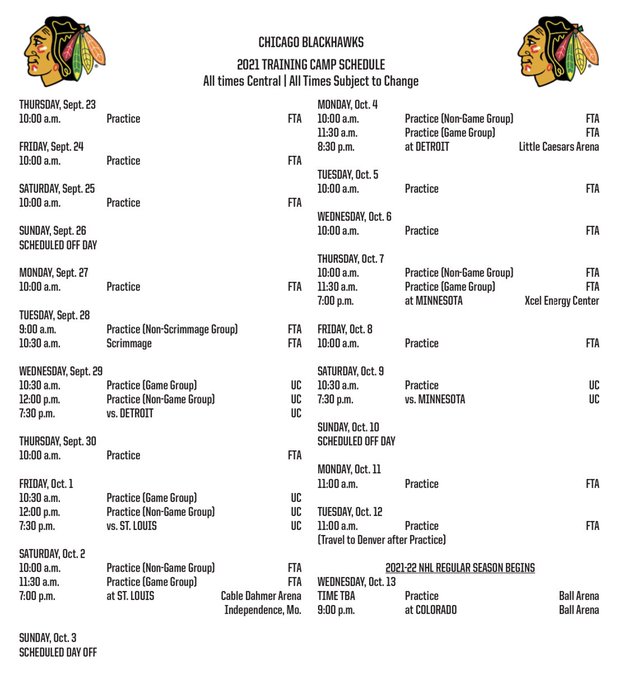 Blackhawks training camp opens this Thursday, September 23. There is one intrasquad scrimmage next Tuesday, September 28 then the first preseason game is the next evening against the Red Wings in Detroit. The season opener is on October 13 versus the Avalanche in Denver.
--
Zack Smith
Not really recent news and some would argue not really news at all.
--
See you on the boards!