WHAT CAN FLYERS EXPECT FROM DAVE HAKSTOL?
If Dave Hakstol had not been such a fixture in University of North Dakota hockey and NCAA hockey in general over the years, there is little doubt that he would have been on the NHL coaching radar much sooner. For whatever reason, NHL teams tend to hire candidates who fit in one or more of the following categories:
1.
Former NHL players.
Hakstol never played above the International Hockey League level. The now defunct IHL was a semi-alternative league to the American Hockey League (AHL) at the time.
2.
Canadian major junior coaches and AHL coaches
. This is usually how NHL teams define a coaching candidate "paying his dues." As has been much reported over the last day, Hakstol is just the fourth coach in NHL history to be hired from the collegiate hockey ranks with no North American pro-level head coaching experience.
3.
NHL assistant coaches
: This is another traditional path for grooming future NHL head coaches. The job duties of an assistant coach -- both the official duties on the ice during practice and during games as well as being liaisons of a sort -- tend to be more specialized and one-to-one or small-group focused. Some elite assistant coaches do not necessarily make for good head coaches and vice versa, while others can adapt to either role. Hakstol has performed both roles during his coaching career but has made his mark first in the USHL and later in Grand Forks as a head coach after four years of being a UND assistant.
Flyers general manager Ron Hextall indicated at Monday's press conference that he valued head coaching experience in his candidate search above assistant coaching experience, even if the latter came at the NHL level. Hakstol had 11 seasons of head coaching experience at UND -- with seven Frozen Four appearances along the way, including the 2014-15 season -- plus four previous years in the USHL.
If Hakstol, who hails from western Canada but played collegiate hockey at UND and has spent his entire coaching career in U.S.-based leagues, had been coaching instead in a CHL-affiliated league, he would have been a hotshot NHL fast-track coaching candidate years ago. Instead, he became ensconced at UND, where he was regarded as one of the top handful of coaches in the nation and pretty much earned his way into a lifetime job -- maybe even an epic tenure akin to Red Berenson at University of Michigan -- if that's what he wanted.
A recent collegiate comparison coach is Union College's Rick Bennett, who has far less head coaching experience than Hakstol but a similar reputation for coaching style and acumen. Bennett (who briefly played in the NHL) has reportedly had NHL interest in the last couple years to interview for coaching vacancies but his situation at Union offers much greater security for himself and his family. The "right" NHL possibility has not been there to lure Bennett away.
It was the same for Hakstol until now. Even casual followers of NCAA hockey know of Hakstol because UND is such a fixture as a Frozen Four contender -- even though they haven't gone all the way to the national championship. Hakstol's coaching has been the constant strength of that program. He's had teams with stars and excelled but also had middling rosters that overachieved. He'd have been on any objective short-list of the top collegiate coaches in the nation.
The operative word here is "collegiate": This is the biggest reason why Hakstol was such an off-the-radar selection for the Flyers. It was always assumed he'd spend the rest of his career as a big coaching fish in the smaller pond rather than dealing with the uncertainty and risk of shark-infested waters that comes with the territory of being in the NHL (or the pro game in general).
Hextall readily conceded yesterday that Hakstol's hire entails a lot of risk. He is an authoritarian head coach -- not a screamer on a regular basis, but has a stoic intensity and is very blunt and direct with his players. Flyers forward Chris VandeVelde (an impending unrestricted free agent but likely to re-sign with the team) describes Hakstol as an intimidating guy at the rink. Hakstol has always been noted for the piercing gaze of his icy blue eyes.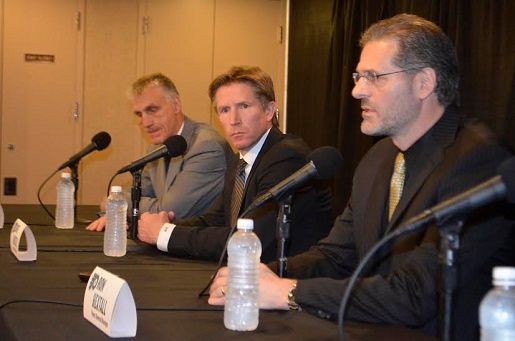 Photo courtesy of Flyers/Zack Hill
However, there is quite a difference between taking an authoritarian approach with college kids (even ones who are considered top NHL prospects) and between pros who are making millions of dollars. The former HAVE to listen to the coach, especially a well-established one like Hakstol. The latter can -- and will -- challenge and gripe and, before too long, tune the guy out. That is especially true if the coach never played in the NHL and never coached at the pro level before.
The ancillary issues of adapting from college to pro hockey are things few doubt Hakstol can handle. He can adapt to the 82-game season with stretches of the season where practice time is limited due to grueling travel and mandatory off-days. He is known as a supremely self-confident type who does not get intimidated by much of anything so the increased media scrutiny and fan pressure may not get to him. But how will he deal with his players?
Hextall said he realizes it's inevitable that there will be Flyers players who test Hakstol in the early going. The GM also pledged that the players will find out real fast who is boss. VandeVelde had a similar take.
Ultimately, the player relations aspect will be primarily determined by wins and losses: If the team is winning, the players will buy in to Hakstol's approach. If the team isn't winning, there will be finger-pointing and sulking.
Hakstol is not a Mike Keenan clone -- he won't play mind games with his players or deliberately rip anyone's confidence down for sake of rebuilding it under the coach's own terms. He has been more like a collegiate version of Mike Babcock in his dealings with players. He has a specific way he wants things done. He won't crack many smiles at work and he won't hesistate to lace into his players but he's not going to embarrass someone for the sake of embarrassing him.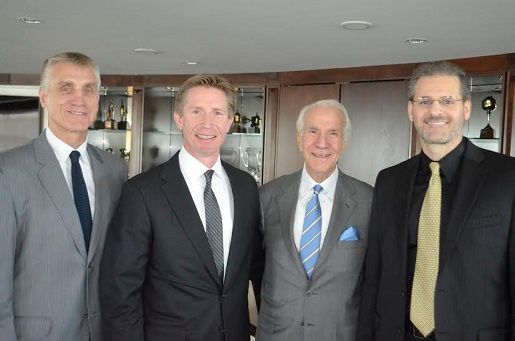 Photo courtesy of Flyers/Zack Hill
So what is Hakstol's style as a coach? What is his system? During his UND career, one of his biggest strengths was that he adapted elements of his system to suit the talent level of his team. By way of comparison, longtime NHL head coach Lindy Ruff is very good at making similar systematic tweaks. His best Sabres team was a high-scoring team that played at a breakneck pace, but he also had a 100-point season without much firepower in 2009-10.
Nevertheless, there have been constants in the UND identity during Hakstol's tenure. The new Flyers coach pledged to bring a similar identity to the Flyers:
1.
Heavy emphasis on structure
. Hakstol very clearly defines where he wants his players to be on the ice (as in "if the puck is there, I want you to go here"). The UND breakouts and forechecking schemes resembled those of NHL teams. UND forwards consistently applied back-pressure and penalty kill units were nearly interchangeable. This was accomplished by lots and lots of repetition at practice. It goes without saying that training camp in September will be heavily based on system implementation. But there will also be frequent re-emphasis during the season. Hakstol is relentless in that regard. He assigns players roles and, like it or not, they have to perform those roles or they don't play at all.
2.
Massive emphasis on skating and conditioning
. Ron Hextall is a stickler for these things. Actually, so was Craig Berube. When Berube's Flyers kept their feet moving, they could compete just fine -- defensively as well as offensively -- with any team in the NHL. The problem came too frequently when the players stopped skating. Hakstol is going to face quite a challenge with the current personnel to keep them skating more consistently than Berube was able to coax from his squad.
3.
Expect to hear the word "accountability" used a lot.
At UND, there were specific things players had to do if they wanted to get ice time. They had to keep their feet moving (see above). They had to be responsible without the puck and provide support. They had were expected to strike a balance between positional and physical play. Defensemen were expected to get the puck to the forwards and make intelligent plays to support the rush and forwards, in turn, were expected to backcheck diligently and dig out pucks when defensemen had their check pinned to the boards. Everyone was expected to find the dangerous man in the defensive zone and to block shots on an almost NHL-like basis. Lastly, overstaying shifts or going off at the wrong time was a surefire way to incur Hakstol's wrath.
4.
Fast pace.
At least until fairly recent years, the tempo of the college game was noticeably slower than the pro game. Hakstol's UND teams gained an advantage by being one of the programs that upped the tempo before other teams adapted. Defensively, they adapted a "swarm" style that you see many NHL teams use nowadays. They also had a very quick transition game, which was how many of their even-strength goals got scored. The success that UND and some other top programs had caused other teams to need to adapt. In recent years, college hockey has been moving more and more to a faster pace in all aspects. At the NHL level, though, Hakstol will find that even the "grind-it-out" NHL teams still play mighty fast compared to the average AHL team much less a collegiate opponent.
5.
Puck possession and bend-but-don't-break defensive hybrid
. Today's NHL is very much about prioritizing puck possession. Hakstol's UND clubs were generally very good at gaining -- and maintaining puck possession -- against most opponents. However, do not expect Hakstol to be a slave to the Corsi/Fenwick mentality that all opposition shot attempts and time spent in the defensive zone are necessarily "negative events" for a team and that a team that gets out-possessed in certain stretches is necessarily being outplayed.
Hakstol still highly values things like board pins, boxing out and conceding perimeter shot attempts to take away the space between the dots. As such, forwards carry significant defensive responsibility to help out the defensemen just as the defensemen are expected to be accurate in their first pass once there is possession in the D-zone. The biggest strength of UND hockey from a defensive standpoint was that it was good both in pressuring the puck to gain possession but also in playing bend-but-don't-break defense as needed. When the team was its absolute best, the two were blended seamlessly.
When Hakstol had personnel at his disposal that could really push the puck possession side, that element really stood out. When they had rosters that spent more time in their own zone, you usually could see how well-schooled the players were on coverages to limit the danger of opposing shot attempts. This is a good example of why Hakstol gained a reputation for adaptability within hockey circles.
Another aspect of his adaptability over the years has been Hakstol's dealings with referees and linesmen from the bench. At one time, he seemed to "ride" the officials pretty hard. He's calmed down considerably in that regard for the most part. As he matured as a head coach, Hakstol seemed to recognize that too much antagonism over calls sends the wrong message to players (a built-in distraction during games and excuse afterwards) and is also a counter-productive way to deal with the officials themselves.
Within hockey circles, the concept of "acceptability" is paramount, whether it's coach-to-player, coach-to-GM or coach-to-officials and vice versa. Hakstol gained a high acceptability factor of the years with his hard-nosed but reasonable approach. Now he has to do the same thing at the NHL level, essentially from scratch except for his already solid relationship with Hextall.
It will be very interesting to see whom Hakstol and Hextall select for assistant coaches. Both men said yesterday they would ideally like to have an assistant -- they didn't specify whether it would be in a bench or eye-in-the-sky role -- who has previous NHL experience, presumably in a past head coaching role.
One would have to think that Terry Murray, with his wealth of NHL head coaching, AHL head coaching and previous NHL assistant coaching experience, will be a candidate especially since his Phantoms contract has expired. Craig Ramsay, who brings a gentlemanly teaching approach that made him an elite assistant coach (although some questioned whether he was forceful enough with his players during his brief NHL head coaching stints), could also be a good veteran prototype for the spot.
However, Murray is a former defenseman as was Hakstol, and sees the game in a rather similar manner. Additionally, while Murray is widely regarded as an elite "teaching coach", he is not the warm-and-fuzzy type. He tends to be very direct in communications with his players in a generally soft-spoken way but otherwise detached from them. He cares deeply about his players and is personally invested in seeing them succeed (many do not realize it until years later how much they really learned from him) but is not a players' confidant or a "good cop" type in the manner that the late E.J. McGuire soothed players who'd just been shredded by Mike Keenan.
As for the other assistant coaches, one would think Joe Mullen will be retained if he wants to stay. On virtually a year-in and year-out basis, the Flyers rank in the upper echelon of NHL power plays. It hasn't only been about personnel. Mullen is an elite power play coach. Of all the Flyers' issues in recent years, the power play has been the least of their worries.
That leaves Ian Laperriere and Gord Murphy. Laperriere's charismatic and expressive personality and his work ethic are beyond reproach. He is also one hell of a taskmaster when players take extra skating, due to injury rehab or being a healthy scratch. The Flyers had excellent PK numbers in 2013-14 during Lappy's first year on the job. However, the PK took a nosedive -- especially on the road -- in 2014-15. For that reason, Laperriere's spot could be in jeopardy.
Of all the current assistant coaches, Murphy's job could be in the most severe jeopardy. In my opinion, he really didn't have much to work with this past season and Berube's own role in managing personnel on his blueline was a bigger topic of debate than anything Murphy was doing. But was Murphy enough a clear-cut part of the solution to survive a change of head coach? Will he have to take a bullet because Andrew MacDonald had a disappointing (and injury-marred) first season on a huge new contract and because Luke Schenn is still essentially the same caliber of player he was in Toronto?
The Flyers also need to hire a new goaltending coach to replace Jeff Reese. Hextall will probably be the one who leads that process, rather than Hakstol.
My prediction: The Flyers carry five assistant coaches next season. There will be a veteran bench assistant or eye-in-the-sky to assist Hakstol with the first-year transition to the NHL. There will be a new goaltending coach and a new defenseman coach (although I think Murphy is perfectly capable in his role). That's three new hires. In that scenario, Mullen and Laperriere would be retained. However, it's also possible the team carries four assistants and Lappy gets replaced with a more experienced coach to be the bench assistant and work with the forwards and the PK since Laperriere himself has only been coaching behind the bench for the better part of two seasons.
Personally speaking, I hope Laperriere is retained. It's actually rather unfortunate that Hextall has such a stern policy of making only the head coach and himself available because Laperriere is always a breath of fresh air and a source of genuine insight. However, even when he's made invisible to the public and the media, Laperriere maintains a very positive presence around the room and he's not one to be "soft" on players even as he advocates for the ones who put in the work and take initiative.
Ultimately, though, the NHL is ruthless and very bottom-line oriented. The Flyers' penalty killing ranking in 2014-15, Laperriere's still-inexperienced coaching resume and the fact that he was shifted from development coach to NHL assistant during Paul Holmgren's tenure rather than Hextall's are all signs that point to a potential dismissal if the team goes with four assistants instead of five.
*******
MORIN, RIMOUSKI WIN QMJHL CHAMPIONSHIP
It took seven games and two overtimes in the deciding match but a home team finally won a game in the Quebec Major Junior Hockey League's President's Cup Finals. On Monday, the Rimouski Oceanic defeated the Quebec Remparts by a 2-1 score in double-OT to claim the QMJHL championship.
Flyers 2013 first-round pick Samuel Morin finished the QJHL playoffs with 11 points (one goal, 10 assists) and a plus-10 rating in 19 games. He had a brutal first game of the finals against the Remparts but went on to enjoy dominant performances in the second and sixth games with strong performances in the others. In Game Seven, Morin had a pair of shots on goal, a couple of blocked shots and was even in plus-minus (plus zero, minus zero).
Both the QMJHL champion Oceanic and the tournament host Remparts will take part in the 2015 Memorial Cup, along with the OHL champion Oshawa Generals and the WHL champion Kelowna Rockets. The tournament to determine the CHL championship gets underway on Friday. Rimouski's round-robin portion schedule will see them play Oshawa on Saturday, Kelowna next Monday and then rematch with the Remparts next Wednesday.