How did the Blues go from a points percentage of 46% in the first half of the season to 74% in the second half? I believe the key thing to consider is turnover.
What a lot of people failed to fully consider is that the Blues significantly overhauled their roster during the offseason. They brought in four new forwards to play in their top nine, turning over 44% of their top three lines. How many times have you seen a team change out almost half of their top three lines? Complicating matters further was the loss of netminder Carter Hutton via free agency, replacing him with journeyman Chad Johnson. Additionally, the Blues changed defense coaches, replacing assistant coach Darryl Sydor with former Blue Mike Van Ryn.
I'm not sure most fans had set realistic expectations as the season opened. The NHL isn't the same as your NHL 19 game for your PS4. Players need time to adjust to new linemates and new systems. As that many players adjust to new coaches, new systems and new teammates, you should expect some growing pains. When you add the significant downgrade in net, the growing pains are likely to be extrapolated. Remember, the Blues lost Hutton's NHL's best goals against average and save percentage, replacing it with a goalie who had two sub 90% save percentage seasons in his last four.
Of course, October was worse than even I expected. You could see the issues born out of unfamiliarity with each other during the early season losses. Poor passing was rampant. Poor defensive zone coverage was frequent. Too many men on the ice penalties were routine. Coach Mike Yeo exacerbated the problem with his lack of patience, never keeping lines together for any real duration. The frequent changing of lines never allowed the players to develop any chemistry with each other.
Amidst all of the dysfunction, goalie Jake Allen and the team engaged in an unhealthy cycle. When Allen would play well, the team would not with Allen losing confidence in the team. When the team was playing better, Allen would give up and untimely goal, perhaps a weak goal. Each was losing confidence in the other and it was impacting how they were playing the game, trying to do too much, altering their style of play and more, trying to cover for the other's mistakes rather than focusing on ensuring their own play was how it should be. For reference, Allen and Johnson combined for a horrifically bad 87.3% save percentage in October.
Everything seemed to snowball. The player turnover and new systems led to inconsistent play born out of unfamiliarity, poor execution and some bad luck. The inconsistent play caused lost leads and more losses. The losses led to line changes, perpetuation the unfamiliarity and inconsistent play. The inconsistent play led to inconsistent goaltending and vice versa. Trust in each other and the system was nonexistent. Players begin trying to do too much, to do things outside their role on the team, all contributing to an avalanche of losing and frustration, fumbling points away along the way.
Look at the results in October. Remember this meme?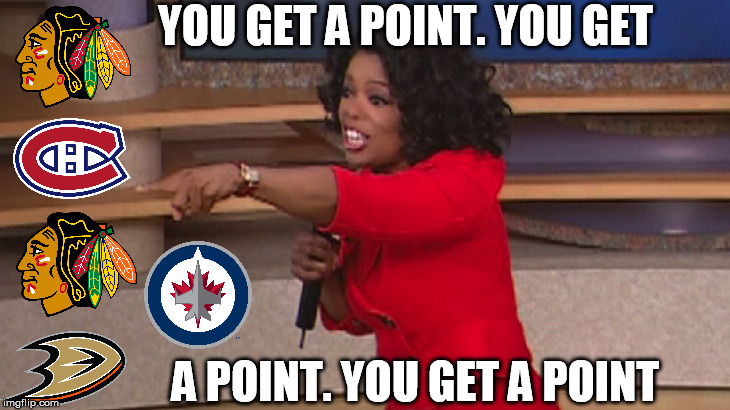 In the 2nd game of the year, the Blue lost a 2-1 lead and a 4-3 third period lead before losing in overtime. In the 4th game, the Blue again blew a third period lead, before losing in overtime. In game five, the Blue blew another third period lead before losing in regulation. In game six, the Blue gave up the game winning goal with 11 seconds left on the clock. In game eight, the Blue blew two goal third period lead before losing in overtime. In those five game, they let seven very achievable point slide away. If they would have been able to close out those game, they would have been 17th in points' percentage through 37 games. As it was, while they were last in point earned, they were only 7th worst in points' percentage. Their unusually few number of games played at that point help sell the worst to first narrative.
As the fall progressed, it seemed clear that coach Mike Yeo had lost the room. His press conferences suggested that he may have been out of ideas on how to get the team turned around and, as I predicted, the Blues turned over the head coaching responsibilities to Craig Berube on November 20th.
Berube in many ways was the opposite of Mike Yeo. While they both may be considered a player's coach, Berube does so in a much different way. Berube is tough in that he requires accountability of his players and coaches but he does so while providing support and opportunity to his players. He also provides stability, confidence and calmness through his leadership while bringing stability to the lines.
As you might expect, the Blues record in the first few weeks of Berube's tenure was not that great. Berube had to work hard to undo the damage done by the first eight weeks of the season, to change the psyche of the team. Doing so takes time.
Berube was consistent in his message, on what he expected of his team and what needed to be done to start winning consistently. He didn't deviate on his message even though the Blues only went 8-9-1 in his first 18 games. While the team's record wasn't great, they only blew one third period lead against the Oilers, at least earning a point in the game.
By mid to late December, even those of us who expected some early growing pains because of the roster turnover began to believe that there just wasn't going to be enough time to get the ship turned around and that a shake-up trade was likely necessary.
While Berube and the Van Ryan were making strides in cleaning up the Blues overall game and installing belief and confidence in the room, the final turnover occurred, losing Johnson on waivers to Anaheim (thank you Ducks) in mid-December, replacing him with Jordan Binnington.
What few may recall now is that Binnington's start to the year was less than stellar, stopping only 84% of the shots he faced in over 68 minutes of ice time, though all of this was in a mop up duty role. Still, I don't think anyone could imagine how his season would progress from there.
As the season turned over to the second half, the Blues power play went from 19% to 23.4% while their opportunities went up more than 10%. The penalty kill went from 79.3% to 84.5% while their time short-handed fell by more than 28%. Their goal differential was -17 in the 1st half but +41 in the 2nd half.
Before the All-Star game, the Blues had an 89.5% save percentage. After the All-Star game, it rose to 92.2%. Even more impressive was how their goals against average went from 3.02 to 2.14. Part of the improvement was due to better overall team play and part was due to turning over the starting goalie role to Binnington.
Berube was patient and consistent in his message. He was much more patient with his line combination, letting some consistency and familiarity develop. His stability, confidence and demeanor translated to the team and was adopted by them and the positive results followed and built upon themselves. The trials and tribulations created a steely determination that guided them to the franchise's first ever Stanley Cup Championship.
It's a great day for hockey.
NHL Champions for Charity Playoff Edition
In what I hope becomes a Hockeybuzz tradition, Hockeybuzz Sharks blogger
Steve Palumbo
and I placed a wager on the series. If the Blues win, Steve has agreed to make a donation to the
Gateway Area Multiple Sclerosis Society
(@mssociety on twitter) whose mission is help each person affected by MS in St. Louis address the challenges of living with MS. They help by raising funds for cutting-edge research, driving change through advocacy, facilitating professional education and providing programs and services that empower people with MS and their families to move their lives forward. If the Sharks win, I will donate to the
Hydrocephalus Association
(@HydroAssoc on twitter) whose mission is to connect individuals to larger communities that can provide support and understanding, to educate national and state policymakers, the medical community, and the general population, and to advance treatment and eventually find a cure for Hydrocephalus.
With the Blues win over San Jose, Hockeybuzz Sharks blogger
Steve Palumbo
will be making a donation to the
Gateway Area Multiple Sclerosis Society
(@mssociety on twitter) whose mission is help each person affected by MS in St. Louis address the challenges of living with MS. They help by raising funds for cutting-edge research, driving change through advocacy, facilitating professional education and providing programs and services that empower people with MS and their families to move their lives forward.
I hope that our wagers will inspire players and fans to pledge donations for each win their team makes in the NHL playoffs.
NHL Champions for Charity Regular Season
Given that the Predators pulled out the division title, all be it not without some controversial officiating in the last couple of games, Best Buddies Tennessee
https://www.bestbuddies.org/tennessee/
is the beneficiary. Best Buddies Tennessee is dedicated to establishing a volunteer movement that creates opportunities for one-to-one friendships, integrated employment, leadership development and inclusive living opportunities for individuals with intellectual and developmental disabilities. As a side note, I recently got to experience a Best Buddies even in the St. Louis area that was led by the Eureka high school football team. It was a lot of fun and brought a lot of joy to those involved.